NaikMotor – Lahir kembali, Norton menyapa pasar otomotif dengan Norton V4 RR terbaru. Motor baru ini dikembangkan di Isle of Man TT dan dirancang dengan mesin anyar. 
Norton mengembangkan dan mendefinisikan ulang V4 RR mereka jadi motor baru yang siap kembali bersaing di pasaran. Dengan mesin V4 baru yang dirancang oleh Norton, sasisnya yang tajam dikembangkan di negara asal mereka. V4 RR handbuilt ini dibuat untuk mendefinisikan motor sport Inggris.
Norton V4 RR memiliki fitur yang serba baru, mesin berkapasitas 1.200 cc, berpendingin cairan, konfigurasi V 72°, dan mampu menghasilkan tenaga 200 bhp. Seperti seri-seri sebelumnya, V4 RR dirancang dan dibangun di Norton's Donington Hall oleh tim ahli di Inggris. Nantinya, New V4 RR ini akan menyediakan pilihan varian karbon atau chrome finish.
Untuk desain dan geometri dari rangka RR, pengembangannya dilakukan di Isle of Man TT pada Norton SG5 TT race bike. Desainer Norton disebut-sebut menghabiskan waktu bertahun-tahun untuk mengerjakan setiap detailnya, sehingga diklaim "worth" untuk dinikmati keindahannya.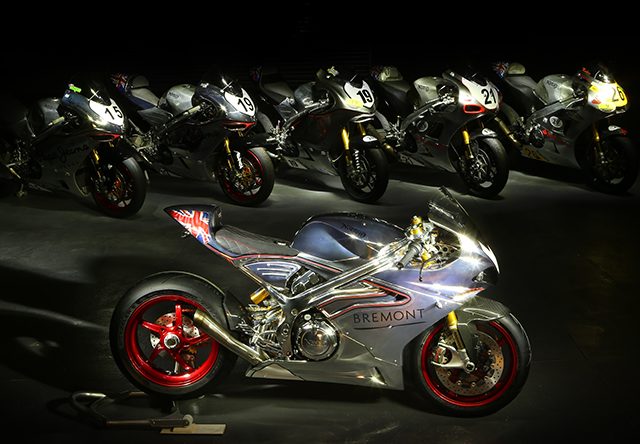 Untuk paket elektroniknya, Norton menggunakan kontrol traksi multi-setting, anti-wheelie, penyesuaian pengereman mesin, launch control, quickshift dengan penurunan gigi blipper otomatis, mode pengendara, pencatatan datalog dan cruise control, yang semuanya dioperasikan lewat layar 7″ berwarna. (Litha/Prob/NM) 
ENGINE 
Type: Norton 72-degree liquid-cooled V4,
1200cc. Chain-driven cams with idler gear
for reduced engine height. Titanium inlet
valves. Slipper clutch
Bore x Stroke: 82mm x 56.8mm
Compression Ratio: 13.6:1
Power: 200bhp + @ 12,500rpm
Torque: 130Nm @ 10,000rpm
Fuel injection: Electronic fuel-injection
system. Constantly variable inlet tracts.
8-fuel injectors. Full drive-by-wire system
independent on front and rear banks of
cylinders for ultimate control and feel.
Euro 4: Full compliance including oil
thermostat, knock sensors, secondary air
injection and EVAP
ELECTRONIC EQUIPMENT
Instruments: Full-colour 7-inch HD
display with multiple functions. Engine
mode adjustability including: Road, Track
and Pro-Race.
Quickshift: Full quickshift system and
auto down blipper
Electronic aids: Multi-setting tractioncontrol, wheelie control, launch control
and cruise control. Uses six-axis Inertial
Measurement Unit (IMU)
Built-in datalogger: Full data-logging
capability including: lap times, max lean
angle, max speed, max throttle, and max
braking force
Engine modes: Road, Sport, Pro-Race
Ignition: Keyless ignition system
Lighting: Full LED lighting system
including super bright low beam & high
beam, angel eye DRLs, rear lamps and
indicators
CHASSIS
Type: Twin tube chassis, cast outriggers
and headstock, polished tubes. Engine
acts as a structural member.
Adjustable geometry: Chassis is fullyadjustable including swingarm pivot
and adjustable rake angle. 23.9 degree
steering head angle as standard set-up.
Swingarm: Braced and underslung singlesided cast swingarn. 570mm long, design
developed in conjunction with SG5 TT
race bike.
Wheelbase: 1430mm
Dry weight: 179kg
Note: Chassis design was developed at
the world's most rigorous race track – the
Isle of Man TT. The geometry, weight
distribution & ergonomics were all tested
and developed on the SG5 TT race bike
which finished seventh at the Superbike
TT and achieved a near 130mph average
seed lap in 2016 at the hands of Australian
rider David Johnson.
Front suspension: Ohlins NIX30 system
front fork. Fully-adjustable.
Rear suspension: Ohlins TTXGP Norton
bespoke fully-adjustable rear shock.
Steering damper: Ohlins damper
Fork yokes: Billet top and bottom
Front wheel: Forged
Rear wheel: Forged
Front brake: 2 x 330mm full-floating
discs. Radially-mounted Brembo
monobloc calipers. Brembo discs, and
Brembo master cylinder.
Rear brake: Single 245mm disc. Brembo
caliper and master-cylinder
STYLING
Bodywork: Full-carbon-fibre. Available in
either carbon-fibre, or chrome
Fuel tank: Underseat MotoGP-style
18-litre fuel tank is all carbon-fibre, with
Kevlar reinforcement and chemically
coated internally to meet fuel resistance
standards.
Footrests: Forged foot rests, footplates
and carbon heel guard.
OPTIONAL
Full titanium race system aftermarket
tune, approx 8kg lighter and approx
10bhp+ as optional accessory
– NOTE: RACE EXHAUST NOT FOR ROAD USE