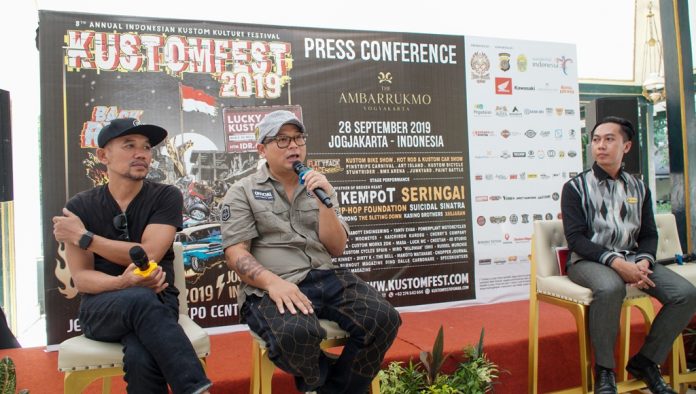 NaikMotor – Ada yang menarik di festival custom bertaraf internasional di Yogkarta 2019, bukan hanya penampilan karya 'kustom kultur' saja tetapi juga hadirnya seniman campusari Jawa, Didi Kempot. Di Kustomfest 2019 (5-6/10/2019) hadir pula konten baru.
Seperti terungkap saat Press Conference Kustomfest gelaran ke-8 di The Ambarrukmo Yogyakarta, (26/9/2019). "Kustomfest tahun ini bertemakan Back To The Roots adalah ajakan kami ke semua anak bangsa termasuk di dunia kustom untuk kembali berjalan bergandengan tangan dalam satu tujuan membesarkan industri ini," buka Lulut Wahyudi (LT), Director Kustomfest.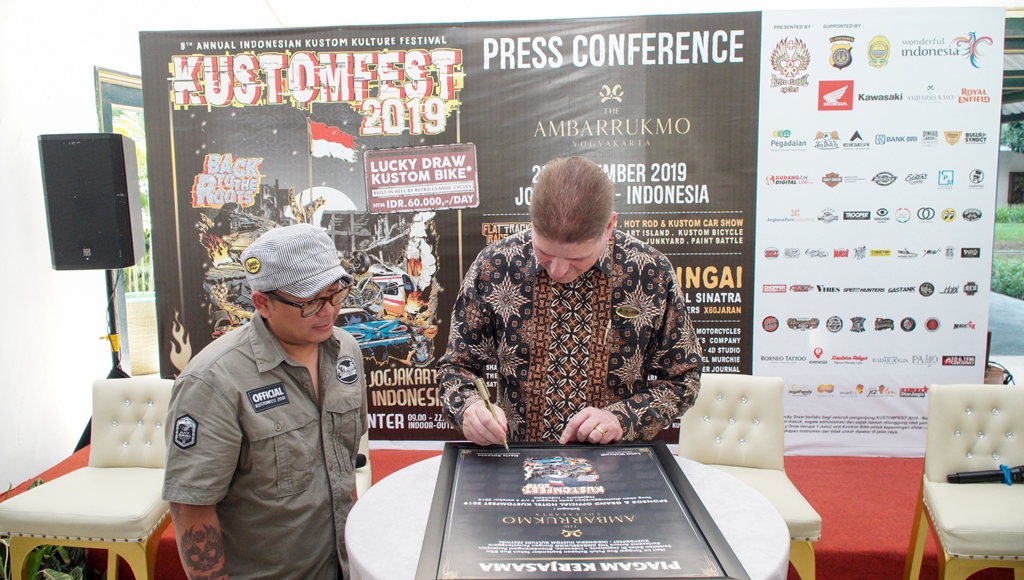 Lebih lanjut pria yang akrab disapa LT itu melanjutkan, "Kita kembali berkarya bersama-sama dengan mewarisi semangat keberagaman menggapai harapan dalam suasana nyaman dan damai."
Kustomfest ke-8 yang digelar 5-6 Oktober 2019 di Jogja Expo Center itu mengetengahkan 2 konten baru dengan seniman campusari Jawa, Didi Kempot dan Flat Track Race. Pada balapan di trek oval itu turut hadi salah satu bintang tamu yakni Toshiyuki Osawa atau yang terkenal dengan sebutan "Cheetah" – Cheetah Custom Cycles dari Jepang. Serta hadirnya builder internasional, Shinya Kimura dari Chabott Engineering, Jepang.
Tak ketinggalan sebuah lucky draw bagi pengunjung di festival kultur kustom bertiket Rp 60 ribu itu. Yakni, ada satu unit motor kustom karya Retro Classic Cycles. (Rls/NM)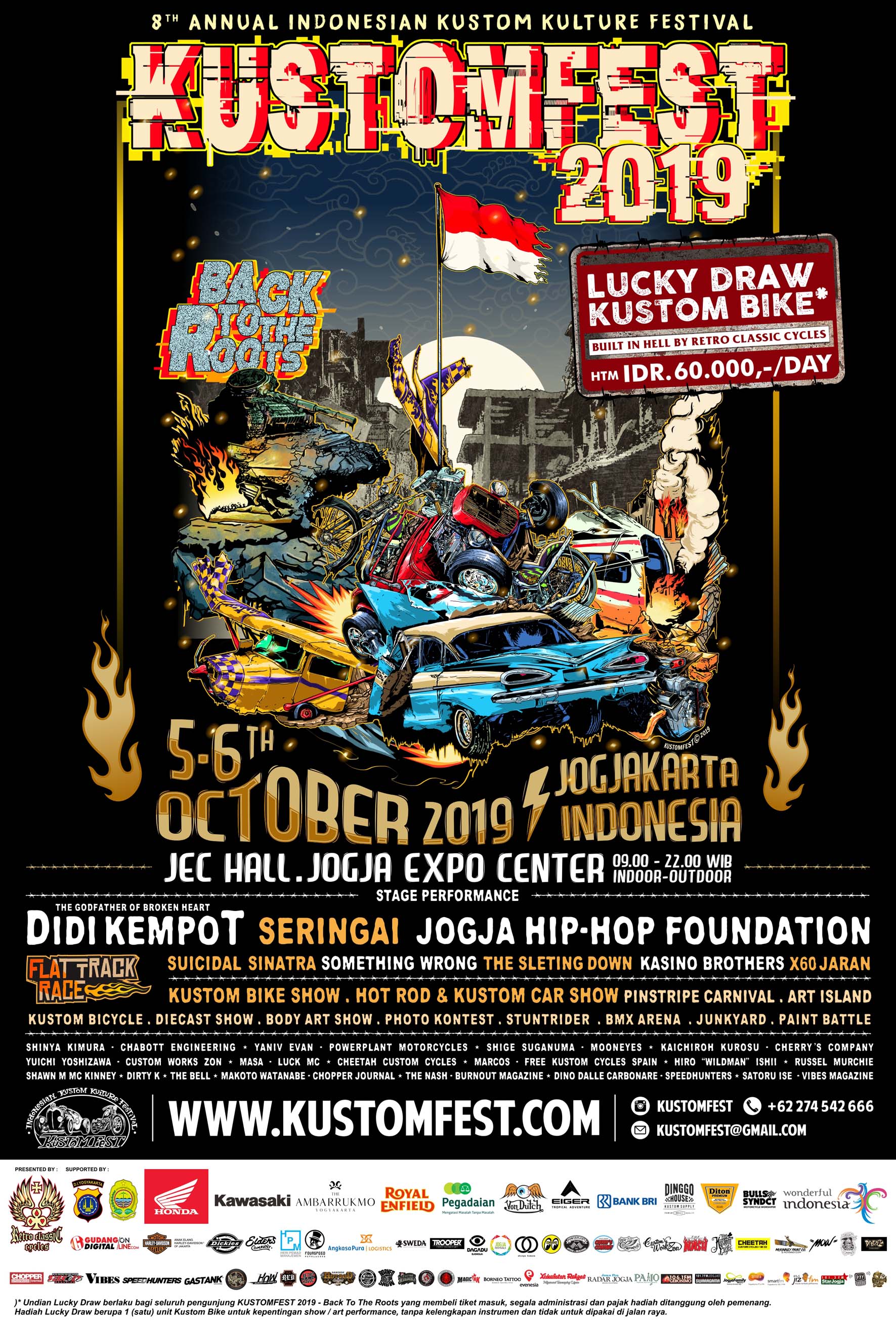 KUSTOMFEST 2019 – BACK TO THE ROOTS, 5-6TH OCTOBER 2018
JEC HALL – JOGJA EXPO CENTER (INDOOR & OUTDOOR SHOW)
HTM RP 60.000,- / DAY
LUCKY DRAW KUSTOM BIKE – BUILT IN HELL BY RETRO CLASSIC CYCLES
KUSTOM BIKE SHOW . HOT ROD & KUSTOM CAR SHOW . PINSTRIPE CARNIVAL . BODY ART SHOW . ART ISLAND . KUSTOM BICYCLE . DIECAST SHOW . PHOTO KONTEST . STUNTRIDER . BMX ARENA . JUNKYARD . PAINT BATTLE .
KUSTOMFEST2019 : FLAT TRACK RACE
STAGE PERFORMANCE :
Didi Kempot • Seringai• Jogja Hip-Hop Foundation• Suicidal Sinatra • Something Wrong • The Sleting Down • Kasino Brothers • X60Jaran • ++Indie Bands •
KUSTOMFEST 2019 GUEST :
Shinya Kimura -Chabott Engineering • Yaniv Evan-Powerplant Motorcycles • Shige Suganuma-Mooneyes • Kaichiroh Kurosu-Cherry's Company • Yuichi Yoshizawa • Custom Works Zon • Masa – Luck MC • Cheetah Custom Cycles • Marcos – Free Kustom Cycles Spain • Hiro "Wildman" Ishii • Russel Murchie • Shawn M MC Kinney •
Dirty K • The Bell • Makoto Watanabe-Chopper Journal • The Nash-Burnout Magazine • Dino Dalle Carbonare-Speedhunters • Satoru Ise-Vibes Magazine •
Presented By :
RETRO CLASSIC CYCLES
SUPPORTED BY :
POLDA Daerah Istimewa Yogyakarta • Pemerintah Kabupaten Bantul • Wonderful Indonesia • HONDA • Kawasaki • THE AMBARRUKMO • ROYAL ENFIELD • PT Pegadaian (Persero) • Von Dutch • EIGER • BANK BRI • Dinggo House • Diton Premium • Bullssyindicate • Gudang Digital • ANAK ELANG Harley Davidson • Dickies • Elders Company • Heri Pemad Management • Fourspeed • Angkasa Pura Logistic • Sweda • Trooper • Dagadu • Jogja Festivals •
MEDIA PARTNER :
Chopper Journal • Burnout Magazine • VIBES • SPEEDHUNTERS • GASTANK • NAIKMOTOR.com • Human of Wheels • Red Garage • Retro Havoc • Bangkok HotRod • Wicked Wallop • Borneo Kustom Show • Tatto Merdeka • GENTO • ISC • Magic Ink • Borneo Tattoo • Evenesia • Kedaulatan Rakyat • RADAR JOGJA • PAIJO • Geronimo FM • Swaragama FM • Jogja Family • SONORA FM • Smart FM • Jiz FM • Star Jogja • PYY • Aspal Yang Sama
#kustomfest2019 #backtotheroots #kustomfest #kustomkulture #Wonderfulindonesia #Indonesia